Can anyone participate?
Of course! All ages are welcomed along with competitive runners or neighborhood strollers. We encourage anyone and everyone who is interested in walking, running or rolling (wheelchairs, strollers, carts, etc. for disabled athletic participation) to sign up for the 2022 Dreams Come True 5K and 1 Mile Fun Run.
Can I bring my pet?
No pets are allowed at the UNF Amphitheater. Registered service animals are allowed.
Where can I park?
Finalized parking details will be provided soon and communicated to all participants at least two weeks before the event. General parking will be available in one of the UNF Parking garages.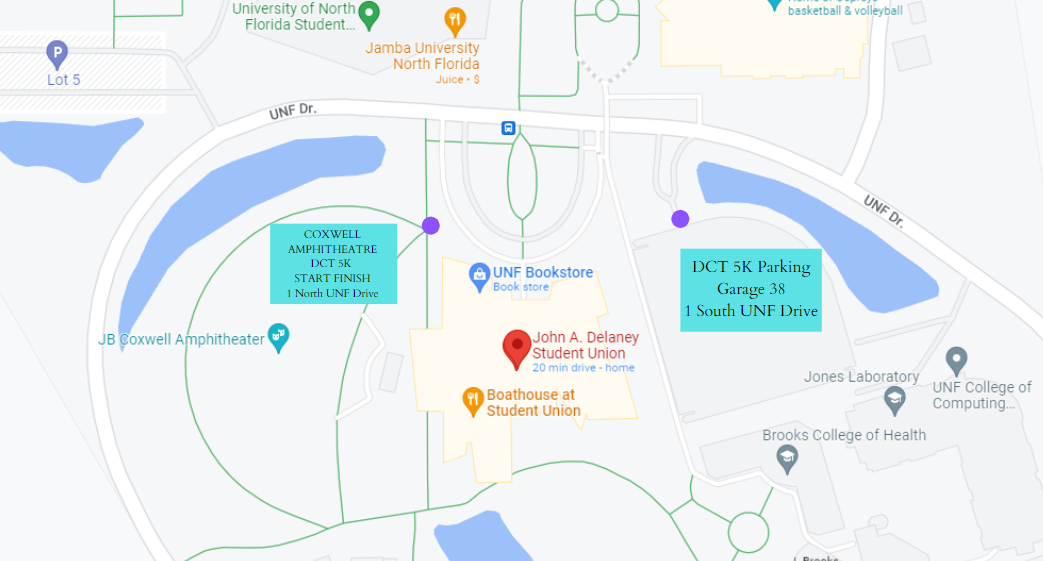 Is the venue wheelchair-accessible?
UNF Coxwell Amphitheater has paved sidewalks, and we've taken care to plan event activities on or around level areas. The Walk, Run, & Roll Route is being designed on smooth and wheelchair-accessible paths.
For those needing to utilize wheelchairs, strollers and carts for participation, we are providing an 8:00 a.m. "Waves for Wheels" time slot, intended to allow you to start the 5K run before our general participants.
What is a race wave?
Our in-person race waves are separate start times intended to encourage and accommodate social distancing & diverse running groups! The following waves are available for participants:
8:00 a.m. Wave for Wheels: This wave is intended for rolling 5K distance participants that will be utilizing strollers, carts or wheelchairs during the race and/or for runners who will run behind or alongside rolling participants. **Skateboards, rollerblades, scooters and non-adaptive bikes are not allowed on the route. This wave is intended to accommodate disabled athletic participation.
8:15 a.m. General Wave: Intended for all 5K distance participants. You can walk, run or roll (wheelchairs, strollers, carts, etc. for disabled athletic participation) in this general wave.
8:30 a.m. Fun Run: Intended for participants wishing to walk, run or roll in our Fun Run, which is approximately 1.4 mile distance.
Is there a registration fee?
Y
es! For the 5K the fee is $25. The fee for the 1 Mile Fun Run is $15.
Official Dream children and families part of the Dreams Come True program who are interested in participating are encouraged to contact

ashley@dreamscometrue.org

or

kelsey@dreamscometrue.org

, 904-296-3030, for additional details on registering.
Businesses looking to cover registration fees for employees are asked to reach out to sheri@dreamscometrue.org for registering instructions.
Can I register on event day?
Yes! Individuals who do not take advantage of online registration may visit our registration /check-in table the morning of September 24. The registration area on-site will be clearly marked.
What do I get for signing up and participating?
All registered participants, including those supporting the DCT5K virtually, will receive a race shirt and medal. Shirts will be provided to participants during their packet pick-up and in-person participants will receive their medal from our Dreamers waiting at the event finish line.
Am I required to make a fundraising page and raise funds.
No. We do not require any participant to develop a fundraising page or raise additional funds. The option to do so is provided to all participants who register. We do encourage everyone to develop a fundraising page or start a Facebook fundraiser through the registration process. Those wishing to do additional fundraising are not required to hit a certain threshold, we truly appreciate the added effort to help raise funds for our children and our DCT5K goal of $400,000, which helps in continuing our mission to use the power of a dream to bring hope and joy to local children battling life-threatening illnesses.
Who are the Top Rockets?
Top Rockets are recognized as members of the elite fundraising club of individuals who have shot to the top of their DCT5K fundraisers by raising over $1,000 for the DCT5K. These funds can be raised through their official DCT5K page, a Facebook fundraiser tied to their registration or through the collection of donations. Those individuals reaching Top Rocket status will receive an official Top Rocket hat.
How are top fundraisers and teams recognized?
All top fundraising individuals and teams are recognized online daily through the DCT5K homepage. Individual recognition will also be given as individuals and teams hit their goals. This recognition can be in-person or digitally. The top fundraising team will be awarded the traveling DCT5K Team Trophy for displaying throughout the year.
How will I receive my fundraising swag?
Fundraising awards will be available for pick-up, hand-delivered or mailed to participants once they achieved the fundraising milestones. Due to possible shipping delays, fundraising swag may be available closer to the race date, but we will do our best to get our fundraising swag out as soon as available.
$1,000 or more: Exclusive Top Rockets hat. Top Rockets are the elite fundraising club of individuals who raise $1,000 or more for the 5K. Special recognition will be provided to all those who achieve top rocket status
How are donations and registration fees being used?
100% of the registration proceeds and donations generated from the DCT5K will be used to fulfill the dreams of local children. Sponsorship funding will help cover the limited event expenses to provide a fun, interactive experiences for all our participants, while also being used in conjunction with dream fulfillment for local children battling life-threatening illnesses.
Are Sponsorships Available?
Yes. We have several sponsorship levels available to help underwrite the cost of the event and assist with children's dreams. Levels start as low as $500. View our full sponsorship packet for all the details.
Are my financial contributions tax deductible?
Yes. Dreams Come True of Jacksonville is a 501(c)(3) tax exempt organization. Your financial contributions may be deductible for federal income tax purposes. We recommend that you consult with your CPA to determine the extent of tax deductibility. Dreams Come True respects the privacy interests and preferences of our donors and website visitors. We are committed to full transparency in outlining what information we collect about donors and visitors, how it is used and how you can opt-out of those programs (online or by traditional communications) if you so choose. Learn more about our Privacy Policy on our DCT web site at: https://www.dreamscometrue.org/privacy/